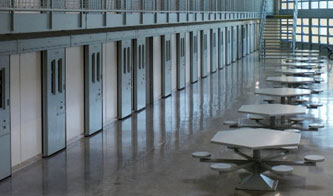 Prisons are harsh environments, both physically and acoustically. Guards, staff and inmates require a reliable line of communication that is not just reliable, but durable, and intelligible as well; Tech Works provides solutions to satisfy all three. When a guard needs to get a message to a cell, cell block, or entire prison without leaving their post, they need to know that message is heard and understood.
The IC-Series of Intercom systems comes from a long and distinguished history of quality communications in law enforcement, security, and other industrial applications. In these environments, the acoustics vary greatly causing integrators to search for solutions to provide intelligible sound no matter what the application. For detention the IC-Series features durable, vandal proof 12-gauge stainless steel faceplates protecting the system from abuse and intentional overload.
No prison intercom system on the market today works this well, sounds this good, and is so easy to integrate with our systems designs.
Components
IC-Series Product Catalog
Downloads
Application Guide: Prison Intercom [PDF]
Datasheet: ICA-202D Datasheet [PDF]
Installation Manual: ICA-202D Systems Manual [PDF]
Architect's Specs: Prison Intercom (.docx)
IC-Series in the News
California Prison Relies on Tech Works: [Read Online] | [Download PDF]
Answering the Challenges of Audio in Corrections Institutions: [Read Online] | [Downloadable PDF]