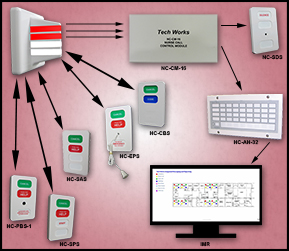 Tech Works would like to thank all of our dealers and partners for a very successful series of NC-Series Nurse Call system webinars, they were well received and a great success.
In the webinar, president and founder Mark Dundas discussed the latest version of Tech Works' Nurse Call Systems, the NC-Series. It is safe to say that most people who attended the webinar enjoyed the presentation and are excited about the availability of the new, versatile, technology and products from Tech Works.
If you were unable to attend one of the webinars, click the link to the video below which is a compilation of the best information from previously recorded sessions. If you have questions, always feel free to email Mark directly at mdundas@tech4people.com.