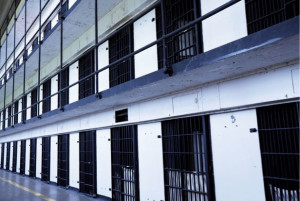 It's hardly a misnomer to say that the corrections industry is, in many ways, a world apart. It is its own unique environment, with its own unique challenges. As with most high-risk settings, communication is essential and can sometimes be critical. Providing good audio in this challenging world can be a demanding profession.
Audio systems in most prisons are designed for two-way communication between the inmates' living area and guards on duty in a central control area called the picket. As Louis Davis, Vice President of Southlake, TX-based Electronic Controls and Automation observes, performance and reliability are the essential factors in designing a system. "The engineers who spec these systems base their criteria on reliability and quality. They want to provide the best systems for their clients. If you have a problem out there, if you have an officer in need of help and his only means of communication is through the intercom system, then you have to have good, reliable audio."
As James Beckham, President of A-V Corp in Amarillo, TX explains, the environment can also be something of an acoustical nightmare. "Typically, you've got a large dayroom with cells opening off this dayroom on one or two floors. You've got concrete floors, concrete or cinder block walls, concrete ceilings, and steel bars. If a guard wants to communicate with an inmate in his cell, and they're slamming doors across the way, and the TV is playing in the dayroom, all that ambient noise is going to reduce your intelligibility to next to nil."
Beckham points to Tech Works ICM intercom systems, including ICA-202 amplifiers and ICR-116 station relay panels, as his first choice for delivering intelligible audio in these challenging environments. "We've been specifying Tech Works systems for years. Their systems are designed to deliver better intelligibility, so you can actually understand what's being said."
Dependability is another essential requirement. The systems must function in the face of regular, ongoing abuse. "Sometimes it's inmate abuse," says Beckham. "You might have an inmate pulling out a transformer to use the wire to make a tattooing machine, for example." Perhaps less apparent, says Beckham, is the potential for vandalism by corrections officers themselves.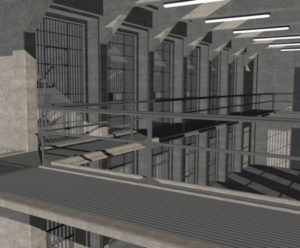 "Generally, the inmates are fairly closely supervised, and don't have as much opportunity to tear stuff up. It's the officer sitting in the picket (the central control area), bored out of his mind, who doesn't necessarily want to talk to foul-mouthed, abusive inmates. So he might tear up the intercom so he's got an excuse."
Whatever the cause, maintenance can be problematic, and the systems need to remain functional even under less than ideal conditions. "It's a challenging environment for the electronics," adds Beckham. "Something may be damaged, a short may occur, and the system needs to keep working. The facility will see that they've got a problem, but they won't know what or where it is. They may not get around to repairing it for two or three weeks."
"These facilities have very little maintenance available, so down time is something we want to avoid," echoes Rob Johnson of Greenville, IL-based Creative Technologies, manufacturers of Secured State security control systems. "The equipment needs to be very fault-tolerant, to withstand both intentional and unintentional damage. That's what I like about Tech Works gear – it will withstand a lot of electronic abuse without shorting out."
Indeed, maintenance can be a significant challenge. "You typically have a shortage of qualified technical staff, so you have people maintaining the equipment who are not all that well skilled," says Beckham. "For example, you might have an officer who at one time was an electrician. He may know very little about audio, but they'll have him working on the equipment. They may re- wire, and often mis-wire a system. So in addition to wear and tear and physical abuse, the equipment may have to withstand electronic abuse like running a circuit to ground or to a short for a period of time, simply due to user error."
Despite the ubiquity of digital and online communications in today's world, the corrections sector has remained distinctively analog. What some might view as a Luddite perspective is, in the prison environment, a matter of pragmatic practicality. "Most of the communications industry has moved to VOIP technology," observes Beckham. "But while putting everything on the network might be the way to go in most settings, there are literally thousands of county jails, city jails, and other incarceration facilities out there who are still in the analog domain. They have wiring in conduit that has been poured in concrete when the buildings were constructed. These facilities do not have the budgets at this point to rewire a facility to meet an IP scheme. And from a maintenance perspective, the people who maintain these systems don't necessarily possess the electronics expertise to work on IP-based technologies. But they do understand a basic analog system."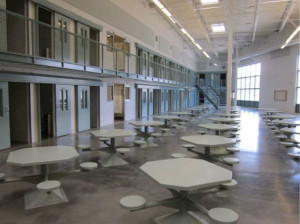 "There are really only a handful of amplifiers available that meet the detention industry's specifications, and we found that most of them still had a really high failure rate," says Davis. "We've put in hundreds of Tech Works systems all over the US, and we've yet to have a single one fail. The audio is less noisy, we've had fewer feedback and crossover issues, and it's pretty easy to set up."
"When we design a system for our customers, we're looking not only at the cost of purchasing a system, but total cost of ownership," says Johnson. "That includes the price of operation and maintenance down the road. Since we believe our systems should not require a maintenance contract, Tech Works has been the answer for us. The dependability is outstanding. We never had to send one back or had any issues with it. That enables us to design a bullet-proof system upfront and maintain our core values."
The Tech Works systems used in corrections facilities had their start in another challenging setting, the medical industry. As Beckham points out, the company has been proactive in adapting their systems to meet the prison industry's needs. "When I call in for a price quote, often (Tech Works President) Mark Dundas will get on the phone with me personally to ask about how I'm using a particular component, and we'll brainstorm together on how to improve the product to meet our unique criteria. They've taken their healthcare audio systems and adapted them for the prison environment by making them even more robust and more secure. There's simply no other manufacturer that builds an entire system that fills this niche."
"One of the reasons you do business with a company is support," offers Louis Davis. "Any time I've ever had a question, whether it's about a particular type of microphone or speaker, or an existing amplifier has been compromised, I can call Tech Works and the people there have been super helpful. I can get all the info I'm after and more. It makes a big, big difference."
About Tech Works
Tech Works is a US-based manufacturer of high-quality, highly specialized communications systems for the healthcare, security, corrections, and education industries. Based in Yorba Linda, California, Tech Works was founded in 1984 with the goal of creating powerful communications solutions for the most demanding environments. Our products are designed to meet the unique challenges of our customers, in applications where clear communication can be critical.
---
Download PDF: White Paper: Answering the Challenges of Audio in Corrections Institutions
Tech Works product brochure: Detention and Security Audio Communications Products (PDF)